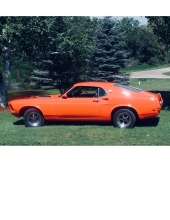 Obituary for Terrence Lee Birchmeier
Age 59 of New Lothrop passed away on Sunday, September 2, 2018 at his home.

A memorial service will be held and announced at a later date.

Terrence was born on July 6, 1959 to Leonard "Curly" and Estelle (Fedewa) Birchmeier in Owosso. Terrence married Karen Sigmund on June 29, 2017 in Gaylord.

Terrence worked for General Motors for many years. During his life, he enjoyed hunting and fishing. He loved good food, playing sports, and working on his Mustangs. Above all, Terrence had a strong passion for his family. 

Terrence is survived by his wife, Karen Birchmeier; his daughter, Brooke; his sons, Garrett, Tyler, and Dillon; his brothers, Bill (Ester) Birchmeier and Lenny (Laura) Birchmeier; his sisters, Joyce (Ed) McCartney, Pat (Mike) Ostipow, Connie (Tim) Rushton, and Laurie (Bob) Green; as well as many nieces, nephews, and other loving family and friends.

He is predeceased by his parents, and his baby sister, Barbara Ann.

In lieu of flowers, memorial contributions are suggested to the family.