Obituary for Leonard R. Stanfield
Leonard Reese Stanfield

Age 89 of Owosso passed away Wednesday, September 5, 2018 at Memorial Healthcare.

Leonard was born May 14, 1929 in Alton, Kansas. He was the 8th child of 16 born to parents William and Vera(Maude) Cooley-Stanfield. He graduated from Mt. Ayre High School.

He married Betty Rae Whittle on March 21, 1946 in Osborne, Kansas; she predeceased him on May 25, 2002.

Leonard was a 60 year member of the Iron Workers Local 25 of Detroit and was an avid hunter and adventurer including climbing Mt. St. Helen and Mt. Hood. He was a cowboy at heart and went on a cattle drive at the ripe young age of 70. Words are not enough to give him the praise he deserves but the Ironworker poem below says it best.

Out on the job, a tough old cob hung up his belt today.
He danced a jig, dodged the rig and picked up his pay.
He said, "Well boys I've made some noise and raised a whole lot of hell.
I've driven pins, and skinned my shins, and watched my poor ankles swell."
"I get so mad I could spit, when my fingertips split."
As the snow falls from frigid dark skies I say quick prayer to Jesus, when the high-iron freezes, in hopes that no Ironworker dies."
"Oh, and I've toiled in the heat, felt the fire in my feet, an Ironworker has to be tough.
I've trudge through the mud, cause trade is in my blood, but at my age-enough is enough."
You can have these tools son: there's still work to be done, but I've walked the Red Iron most of my life.
There's no need to mention-I've earned a fine pension, it's time to grow old with my sweet darling wife." "So all you young studs, when you strap on your spuds, and you work hard the whole day long.
Look out for your brother, take care of each other, and keep our union strong."
There's a lot of work to it, but I know you can do it, just keep a stiff upper lip.
The others will say, as you pass their way, that's a union man with those spuds on his hips."
Then that tough old cob, turned around and left the job, and I saw him wipe a tear from his eye.
He said, "I've been laid-off and fired, and now I am retired, but I'll be an Ironworker till the day I die

Leonard is survived by his son Michael James (Nadean) Stanfield Sr.; grandson Michael James (Sadie) Stanfield Jr, grandaughters Chicaro (Dennis) Hoffman, and Melissa (Michael) Zvonek; 5 great grandchildren-Diana, Dylan, Abby, Katie and Gabe; two sisters; several nieces and nephews and many other loving family and friends including special sister in law, Marcella Hintz.

He was predeceased by his daughter Catherine Ann Dekett and infant son Leonard Ray Stanfield.

Memorial contributions are suggested to the Salvation Army of Owosso.

Per Leonard's wishes there will be a private family service at a later date.
To send flowers or a remembrance gift to the family of Leonard R. Stanfield, please visit our Tribute Store.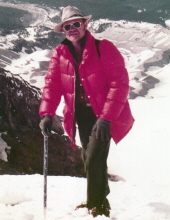 Thank you for sharing your
memory of Leonard
Provide comfort by sending fresh
flowers from our local florist.
No thanks, please don't show me this again.